Author: Pamela S. Thibodeaux
Narrator: Terri England
Length: 7 hours 15 minutes
Series: Tempered, Book 2
Publisher: Pamela S Thibodeaux Enterprises LLC
Released: Nov. 18, 2019
Genre: Inspirational Romance
Dr. Scott Hensley (introduced in Tempered Hearts) has built a wall around his heart since the death of his wife and parents. Katrina Simmons is recovering from scars inflicted on her as a battered wife. Can dreams be renewed and faith strengthened? Can they find joy and peace in God's love and in love for one another?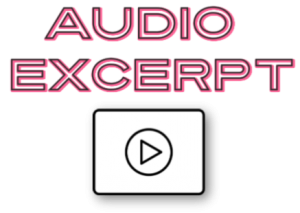 Tempered Fire, Book #3 in the Tempered series is scheduled for release on audiobook this month.
Click here for a blooper reel from the upcoming release!

Award-winning author, Pamela S. Thibodeaux is the Co-Founder and a lifetime member of Bayou Writers Group in Lake Charles, Louisiana. Multi-published in romantic fiction as well as creative non-fiction, her writing has been tagged as, "Inspirational with an Edge!" ™ and reviewed as "steamier and grittier than the typical Christian novel without decreasing the message." Sign up to receive Pam's newsletter and get a FREE short story!

Terri England is a radio personality, podcast host and book narrator. She is the mother of two daughters and one very stubborn (but smart) Doberman named Jackles. She loves music, both stars (Wars & Trek) and is obsessed with the supernatural. In her own words, Terri is "a geek and proud of it."

4/5 Stars
I enjoyed this realistic story about a young woman's battle to free herself from a life of domestic abuse.
After a car accident shatters her lifelong dream, Katrina Simmons ends her marriage. On his way to a job assignment, Dr. Scott Hensley happens upon the accident and assists until paramedics arrive.
Despite the wedding ring Trina wears, Scott is drawn to her and follows the young woman to the hospital. He slowly insinuates himself into her life. When he learns Trina filed for divorce, Scott is even more determined to be in her life and protect her.
Distrustful and suspicious, Trina pushes Scott away as she deals with husband, Jack Simmons, who contests the divorce and stalks Trina, making angry, threatening phone calls to her. When Jack's anger explodes, Trina pays the price. However, Scott stays close, trying to win her trust.
Another abuser from Trina's past deals a blow that changes her life forever and leaves her reeling. She's at odds with everything and everyone in her life, including Scott, and knows she'll find no peace or wholeness until she reconnects with her Catholic faith and feels forgiveness from God.
This poor woman went through it! The narrator did a great job with Trina's feelings of shame, despair, and inadequacy. Trina had several setbacks—some of her own making—and they felt real, not forced or contrived.
Craig and Tamara Harris from book 1 show up for moral support and more. Tamara is the confidante Trina needs to discuss her sexual shame, but even more so is Craig and Tamara's seventeen-year-old daughter, Amber, who's the brightest light in this story. She's got just enough teenage snark to drive her daddy crazy, an antagonistic but loving relationship with little brother, Ace, and is deeply rooted in her Christian beliefs enough to impart wisdom to Trina.
Scott is still as personable as he was in book 1, despite the years that have passed and the losses he's suffered. I admired his commitment to stand by Trina but felt he was too intrusive and controlling inserting his will over hers. Tempered Dreams does a great job of the blending and acceptance of religions. But Scott's little speech to the priest almost undid it all. Much respect to the priest for his metered words because I would have shown Scott the door. He also felt a bit hypocritical sharing scriptures with Trina to support her journey back to God in one scene, and his hands way too busy in places they didn't belong on her body in the next. He and Trina both also seemed to equate good looks and a profession of faith with God's perfection. Meh. Come out of the shallow end of the pool.  I don't expect or need perfection from Christian characters because the journey is personal and ongoing, but it would be nice to have character I can depend on when human nature wants to run rampant.
It wasn't easy listening to Trina's journey. The depths of her anguish were heartbreaking because her internal battle with forgiveness and acceptance was just as difficult for her as the violence and loss that had dominated her life. But good writing, pacing, and narration enhanced her story to show a relationship with God isn't a goal or destination but the journey itself.
Enjoy!
I volunteered to review this audiobook as part of my participation in a blog tour with Audiobookworm Promotions. The tour is being sponsored by Pamela S. Thibodeaux. The gifting of this audiobook did not affect my opinion of it.
The Tempered Series Giveaway: $25 Amazon Gift Card


Plugging you into the audio community since 2016.
Sign up as a tour host here.