Author: Andi Cumbo-Floyd
Narrator: Aven Shore
Length: 5 hours and 14 minutes
Series: Steele Secrets, Book 3
Released: April 29, 2022
Producer: Audiobook Empire
Publisher: Andilit
Genre: Paranormal; Young Adult
I didn't expect to meet a grieving ghost or her dead mother.

But then, I didn't expect to find out my town had been the site of a lynching, a lynching that had left my friend Sarah motherless and had made her a victim of murder as well.

Their deaths aren't ancient history, though, not when one man who was a witness still holds sway in our small town. My friends and I have truth on our side, but will that be enough to keep us safe?

If only telling the truth didn't come so hard to so many.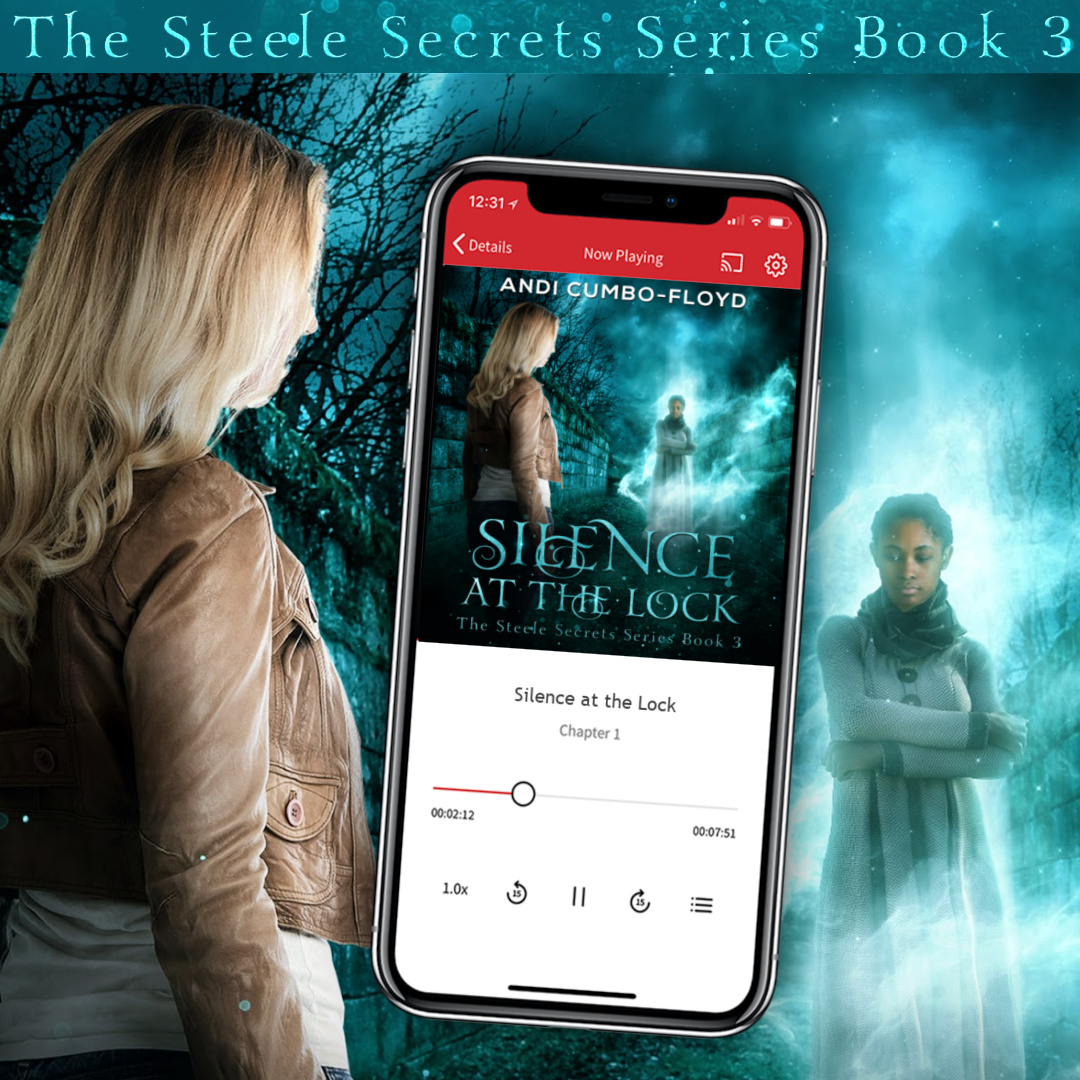 Andi Cumbo-Floyd lives in the Southwestern Mountains of Virginia with her young son, an old dog, and a puppy who likes to eat furniture. When she's not writing she likes to cross-stitch, binge magical shows, and garden.

Aven Shore is an audiobook narrator living in her off-grid tiny house in rural Eastern Canada, surrounded by forest and chicken friends, and honeybees. She loves books so much she's listening to one almost every minute she's not narrating one (she narrates romance as Avie Paige). She narrates live on Discord with other romance narrators on the Haven server. She is longing to travel and hike in mountains again, and dreaming of sleep in the lava fields of Iceland under Northern lights again, her favorite place in the world. Her past lives include being a carpenter, firefighter, tax accountant, and competitive snowboarder.

At Audiobook Empire, audio reigns supreme, narrators are hailed as heroes, and headphones are worn with pride.
Marrying pomp and circumstance with quality you can count on, Audiobook Empire is a full-service production house that produces and promotes audiobooks with gusto.
Give your audiobook the imperial treatment by producing it with Audiobook Empire.

Q & A with Author Andi Cumbo-Floyd
Were there any real life inspirations behind your writing? 
Actually, yes. These books were inspired by two major histories in my life: my own family story and the story of my son's father's family.  I am a descendant of African people who were brought here very early in the history of the United States, and so that history is in this book.  And the actual idea for the place and story came from a tale my son's grandfather shared about his experience in a graveyard in his hometown in western Virginia. It was really powerful to weave those stories into a new one I created.
Are you an audiobook listener? What about the audiobook format appeals to you? 
I LOVE audiobooks. I listen to them constantly because I find that I can absorb certain stories more easily in audio than I can on the page. Plus, sometimes I just can't hold a book or ebook, and then I can put in my earbuds and listen.  The more I can read the better.
If you had the power to time travel, would you use it? If yes, when and where would you go? 
Definitely.  And if I have to pick just one place, it would be Eastern North Carolina, where my family on my dad's side is from.  I'd go back to my ancestor James Henry's time to see the situation and story around his (or his parents') decision to have him cross the color line. I cannot believe the courage such a choice would have taken, and I'd like too bear witness to that choice and its consequences because his choice is part of what let me be here today.
What do you say to those who view listening to audiobooks as "cheating" or as inferior to "real reading"?
I find this argument just ridiculous. Taking in books is reading, no matter the form, because reading is simply about absorbing words into our brains.  That can happen through our eyes or through our ears.  Plus, honestly, the idea that audiobook listening isn't reading is insulting to those people in the world – the blind, those with visual processing disorders like dyslexia – who can only experience the joy of reading through audio.
In your opinion, what are the pros and cons of writing a stand-alone novel vs. writing a series? 
As a reader I love series. I love to drop into a world for a long time, so I always want to give my readers that opportunity, too. But as a writer, it's harder because I need to be sure I don't repeat myself or make my stories so complex that they can't be carried through clearly in a series. But if I can do my work well, I hope I give readers a luxurious, encompassing story that moves from book to book without getting boring or cumbersome.
What's your favorite:
Food – cheese.  Hands down. Cheese of any sort.
Song – "Maria's Beautiful Mess" by Ellis Paul
Book – Who Fears Death by Nnedi Okorafor
Television show  – at the moment, "Lizzo's Watch Out for the Big Grrrls"
Movie – Dead Poets Society
Band – Over the Rhine
Sports team – do not have! ☺
City – Edinburgh, Scotland
Are any of those things referenced in appearance in your work? 
Many of Mary's food choice echo my own, and some of my music choices, too.  Most of her reading, listening, viewing was informed by what I was doing at the time. So not necessarily my favorites, but things I enjoyed.
What bits of advice would you give to aspiring authors?
You can make a living at this writing thing, and you can love telling stories every day.  You just have to learn and persist past all the obstacles. It's worth it.
Do you have any tips for authors going through the process of turning their books into audiobooks?
Find a narrator you love, who is professional, poised, and knows how to ask you the right questions to produce the book you want. Then hire a producer who will create beautiful, professional files for you.  This isn't a place for cutting corners. It's worth the money.
What's next for you?
I've been writing cozy mysteries for a while as ACF Bookens, and I'll keep doing that. But I'm also start a romantic comedy series as Andrea Cumbo in 2023. So stay tuned for those.


Plugging you into the audio community since 2016.
Sign up as a tour host here.