Author: Jo Visuri
Narrator: Hana Lass
Length: 10 hours and 59 minutes
Series: Nordri Series, Book 1
Publisher: Auor LLC
Released: Feb. 25, 2022
Genre: YA Fantasy
A captivating real-world fantasy adventure filled with intrigue, suspense, Norse mythology, magical objects, and special abilities, Jo Visuri's best-selling tale will sweep you away to mystical Auor Island – where nothing is quite as it seems!

A remote island. Old secrets. And a cascade of unintended consequences. Long ago, four clans from earth's four corners were given magical abilities to help save humanity from oblivion. For generations, their descendants have lived in hidden communities and occasionally intermingled with regular humans—leading to whispers of unforeseen consequences. Now, in the present-day and for unknown purposes, one Clan quietly and desperately seeks the rumored, undiscovered offspring.

Meanwhile, in the heart of a northern archipelago, Elin Bodil leads a perfectly ordinary, happy life on Auor Island with her family. When, through accident and circumstance, she meets both a motorcycle-driving stranger and the new mysterious boy next door, Elin's world is turned upside down. As Elin is drawn into a brewing supernatural conflict – with her two unusual acquaintances on opposite sides, she must decipher who to trust while unearthing her island's secrets and those buried deep within herself. But when the search for answers triggers the Clan's sinister schemes, Elin and her companions will have to confront far bigger and deadlier secrets than they ever imagined. And they'll need much more than themselves to survive! Welcome to Auor Island – and the legend and magic within its ruins!

Told from the perspective of Elin and her two unusual acquaintances, the best-selling first-in-series book blends Norse myth, magic, adventure, science fiction, and fantasy with a touch of romance. Delighting listeners of all ages, The Undiscovered Descendants is perfect for fans of real-world fantasy adventures with heart and tales of family, friendship, secret societies, hidden worlds, and magic powers.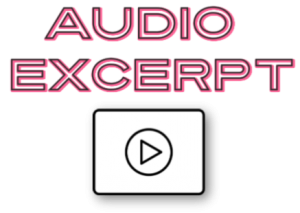 Jo Visuri was born and raised on an island in Finland's famous archipelago, where she found her one and only Viking coin at the age of six. After spending a few formative years living by a Norwegian fjord, Jo's family uprooted to the sunny beaches of Los Angeles, CA.
A graduate of Brown University, Jo has been privately writing stories since she could read one and launched her debut The Undiscovered Descendants in Fall 2021. She now lives and writes in San Diego, CA, when she isn't distracted by her cuddly and demanding senior dog.
Jo writes myth-inspired fantasy stories appropriate for all ages that take the reader on adventures in the real world with magic, hidden worlds, secret societies, and tales of family and friendships.
Subscribe to Jo's Newsletter for FREE fiction, exclusive content and to be automatically notified when she releases her next book: https://www.jovisuri.com/newsletter


Hana Lass is a noted actress who has worked on stages and screens from New York to Seattle. As an obsessive reader, she delights in bringing stories to life. She enjoys recording all genres, from YA to fantasy and everything in between.
Q&A with Author Jo Visuri
Tell us about the process of turning your book into an audiobook.

The process was actually quite fun, although a bit more work than I expected. The first step was choosing passages for The Undiscovered Descendants' audition script. Then the second step was to hold auditions where narrators could showcase their vocal talents. After that crucial step, the next step was choosing a narrator and crossing your fingers that you had chosen the right one. Then you get down to the hard work of giving lots of vocal notes for each character and a pronunciation guide for all the foreign words—which there are many in

The Undiscovered Descendants

. An additional challenge was that Old Norse is a dead language, so that had me scrambling to find good pronunciation examples. But I got very lucky with Hana. She was very diligent about working through all the obstacles, brought fresh ideas to the table, and of course, she is a very talented narrator. Once the preparatory work was completed and Hana had created the audio, it was off to production for clean-up. Then the last steps were final approvals and release to the world, bringing to life all the characters of Auor Island!

Was a possible audiobook recording something you were conscious of while writing?

Not really. I was too busy writing down the story the characters were telling me to focus on anything else. It wasn't until the book was published that I started to think about an audio version.

How did you select your narrator?

In my mind, there was only one way, which was to hold auditions to find the right voice. I had three main criteria. I wanted to make sure the narrator could vocalize the three main characters distinctly—especially given the chapters alternating between Elin, Aedan, and Tristan. The second criterion was someone who could believably do both female and male voices. Lastly, I wanted a narrator who wouldn't be intimidated by foreign words and would work to get the right pronunciation down. Anything beyond that the narrator could do, such as accents, etc., elevated them on the shortlist. Hana did all of those things and more right off the bat.

How closely did you work with your narrator before and during the recording process?

As I mentioned earlier, we worked closely together before the recording process to get everything nailed down. Once the recording process started, we did a quick check-in to make sure everything was sounding right. But after that, it was really up to Hana. Not much I could add—I'm neither an actress nor a recording expert, so I was happy to let the professional handle it. As the last step, I listened to the entire audiobook for any minor fixes, but there really wasn't anything. Hana had done a great job!

Did you give them any pronunciation tips or special insight into the characters?

Yes! I had a full spreadsheet of character insights plus a pronunciation guide. I also annotated each chapter with additional comments on the characters' emotional states. It was a collaborative process with Hana, and I wanted to give her as much support as possible.

Were there any real-life inspirations behind your writing?

Yes, there are many pieces of real-life inspiration to the book's backstory. One, which

The Undiscovered Descendants

' fans frequently ask, is whether Auor island is actually real. The answer is no. However, the island I grew up on in the Finnish archipelago did indeed inspire Auor—although the geographic nature does differ. Auor has mountains, an actual town center, and a larger population. My island could only boast of a post office and grocery store scattered along its main road.

How do you manage to avoid burnout? What do you do to maintain your enthusiasm for writing?

To avoid burnout, I try to vary my book activities. Some days it is all about marketing efforts or working on side projects. Other days, I buckle down to write. Luckily, once I scribble a few sentences, I'm back in the world of my characters, and they can't wait to share their adventures with me again.

My writing enthusiasm stems from the energy the book's fans generate. They keep me motivated to continue sharing Elin, Aedan, and Tristan's stories. There's nothing quite like someone expressing how much they enjoyed your book and asking about the next one to keep you inspired. So, a big thank you to all those who take the time to leave a review or send me a personal note. They are so appreciated!

What's your favorite book?

It's impossible for me to choose a favorite book. I just have too many, and choosing a favorite is completely dependent on my mood. I tend to read fairly broadly in terms of genre, but one of my favorites is young adult fantasy. Both historical and contemporary fantasies with a hidden world component are my jam, which is why, I suppose,

The Undiscovered Descendants

is a blending of those elements. If I had to pick a few books that top my list, then they would be as follows in no particular order:

The Chronicles of Narnia

by C.S. Lewis,

Ruby Red

trilogy by Kerstin Gier,

The Paper Magician

by Charlie N. Holmberg,

The Lord of the Rings

by J.R.R. Tolkien,

A Discovery of Witches

by Deborah Harkness, and, of course, the Harry Potter series by J.K. Rowling.

Are any of those things referenced in appearance in your work?

Yes,

The Lord of the Rings

is referenced in the book. While LOTR is a renowned epic fantasy, it does share an element with

The Undiscovered Descendants.

They were both inspired by Scandinavian and Norse mythologies. So, it felt only appropriate to pay it homage in

The Undiscovered Descendants

.

What's next for you?

Well, I'm feverishly working on book 2 of the Nordri Series at the moment. It's almost done and will soon be handed off to my editor. And if all goes well, it'll be published in Fall 2022. I'm so looking forward to and excited to share Elin's, Aedan's, and Tristan's new adventures with everyone! If you want to get exclusive sneak peeks and updates on the progress, I suggest joining my newsletter on my website: http://www.jovisuri.com.


Plugging you into the audio community since 2016.
Sign up as a tour host here.