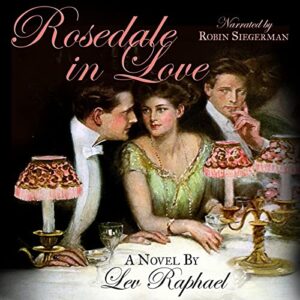 Author: Lev Raphael
Narrator: Robin Siegerman
Length: 11 hours 59 minutes
Publisher: Audiobooks Unleashed
Released: May 20, 2021
Genre: Historical Fiction


In the glittering world of money-mad 1905 New York City, Jewish financier Simon Rosedale plans to force his way into high society through marriage, and has his eye on Lily Bart. One of the most beautiful women in the city, Lily is a down-at-heels aristocrat plagued by gossip, and might be vulnerable to his proposal. With his money and her style and connections, he can rise to the top – but will she lower herself to marry a Jew?

Could such a marriage heal Rosedale's secret shame, and will Florence Goodhart, the cousin who adores Rosedale, help or hinder his plans?

Written in a period voice, Rosedale in Love audaciously revisions Edith Wharton's beloved classic The House of Mirth, offering listeners a timeless American story of greed, envy, scandal, love, and revenge.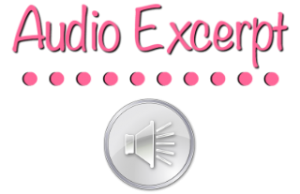 Lev Raphael is the author of 27 books in genres from memoir to mystery and a winner of a Lambda Book Award for his first collection of short stories. He has twenty years of university teaching behind him, most recently at Michigan State University, whose Library has purchased his literary papers and updates the archive yearly. His work has been translated into 15 languages and has appeared on course syllabi around the country–which means he's been homework. Edith Wharton inspired him to become a writer and he's published a book about her life and fiction as well as a comic mystery: The Edith Wharton Murders. A frequent traveler to Germany, Lev studies both German and Swedish as a hobby and takes voice lessons too. He is the proud owner of two West Highland White Terriers and has lived in Michigan with his partner for more than thirty years.

I trained in NYC with acting coach William Esper, Speech and dialect coach Timothy Monich and vocal coach Albert Hague. Improv at Second City Toronto, and audiobook coaching with Sean Pratt, Joel Froomkin and Dawn Harvey.
In 2018 I was nominated for Best International Voiceover at the One Voice Awards in London, England, for the documentary voiceover in www.HarrysStory.ca . In 2019 I won Best Corporate Training Voice Over Artist by CV Magazine and in 2021 won an Earphones Award from AudioFile magazine for A Son at the Front, by Edith Wharton.
I grew up in Montreal speaking English and French, so developed an ear for language and accents at an early age. However, after two years of speech training, my natural speaking voice is neutral American, and I have a wide variety of accents to draw upon for audiobook narration: English & French Canadian, Classic French, German, American Southern, New York, Italian, Irish, German, English RP and Estuary.
With an additional background as an international award-winning interior designer, author of Renovation Bootcamp®: Kitchen and conference speaker, I love to "make movies for the ears".
In my spare time, you can find me surrounded by a bevvy of rescue dogs, singing with my a capella ensemble SoundCrowd in Toronto, or playing board games with my husband Steve, our son Julian and daughter-in-law Danielle.

Q&A with Narrator Robin Siegerman
How did you wind up narrating audiobooks? Was it always your goal or was it something you stumbled into by chance?

About 3 years ago, I thought I would investigate narrating audiobooks, since I do other voiceover work and thought it might be something I would be good at and enjoy. What I didn't realize at that time, was how long a process it is! For new narrators, even those of us with lots of voiceover experience, it can take about 8-10 hours to create one finished hour of audio. So a 10 hour book is a big time commitment.

A lot of narrators seem to have a background in theatre. Is that something you think is essential to a successful narration career?

I don't think it's essential, but it's definitely helpful. IMO, the best audiobook narration is not reading it is acting. It enhances the story with character and voice work, and having experience acting in theater gives the narrator the background and skill to analyze the scripts to find the subtext and character's intentions which helps bring the characters into 3 dimensions and brings the story alive.

What type of training have you undergone?

I trained as an actor in NYC for three years and have worked extensively with audiobook coaches. Acting for audio is similar but different than acting on stage, and it takes work and practice to learn audio techniques. I continue to train, as most professional narrators do, to learn new ways of interpreting the material and improve my techniques.

Are you an audiobook listener? What about the audiobook format appeals to you?

YES!! I adore listening to audiobooks! I have listened to them since they were called talking books and were on cassette tape! When I was a child going on road trips with my parents, we would always try to have a talking book with us to listen to while driving.

What would you say are your strongest narration abilities?

I think my strongest skill is character development, which comes from my acting and theater background.

Is there a particular genre you feel unsuited for?

Have you ever declined a project because you didn't think you were right for it?

These days, narrators have to be very careful about cultural appropriation. I turned down a book in which the major characters were South Asian. I just didn't feel I could do justice to the accents or the cultural references.

What about this title compelled you to audition as narrator?

I have loved this book since I stumbled across it about 9 years ago. I had just finished reading Edith Wharton's House of Mirth and loved it so much, I wanted to read something else in a similar genre. I started looking and saw Rosedale in Love which is the re-telling of the House of Mirth from the point of view of Rosedale, the Jewish financier. It was so beautifully written and so true to the original novel on which it was based, I went looking for an audio version and discovered there wasn't one! So I did a bunch of sleuthing, found the author, recorded a sample and sent it to him asking if he might consider having an audiobook made and he loved my sample and said yes! Thereby began a 2 year saga to get this beautiful book into audio!

How did you decide how each character should sound in this title?

The book is so well written that the characters just jumped off the page and I knew instantly how I wanted them to sound. The only one I changed was Rosedale as a result of input from the author. And he was right.

What types of things are harmful to your voice?

Going to a loud party or bar where I have to shout over an extended period of time, or being around cigarette smoke. That just kills my voice.

How does audiobook narration differ from other types of voiceover work you've done?

First, it takes much longer. Most voiceover work (except for e-learning or an animation series) usually is done in a day or maybe two. And audiobook can take weeks, depending on how long and complex it is, how much research I have to do ahead of time (looking up the pronunciation of words, learning a new accent), whether I'm doing my own engineering or if I'm outsourcing that or if a publisher is taking care of it.

If so, which ones stand out to you most, positive or negative?

It's unfortunate that the general tone of discourse on the internet can be very offensive. Sometimes someone will leave a review that is just mean and insulting and has nothing constructive to say. I think those people don't stop to think that there is a real person reading them and whose feelings can be hurt by unnecessarily rude comments. Fortunately I don't get many of those, but unfortunately, those are the ones that tend to stick in my head. I have to work hard to let them roll off me without affecting my confidence.

If you could narrate one book from your youth what would it be and why?

It's already been done as an audiobook and as a musical, but I would have LOVED to narrate the Secret Garden by Frances Hodgson Burnett. I adored the book as a child and it really captured my imagination. I would have loved inhabiting those characters for a while!

What do you say to those who view listening to audiobooks as "cheating" or as inferior to "real reading"?

There is ample scientific evidence to show that listening to a book lights up the same area of the brain as reading. Listening is not only enjoyable, bringing a whole new dimension to a beloved book, but it can be enormously helpful for people with learning disabilities, or simply for people who otherwise wouldn't have time to read a book. People who read and listen to books get to travel to new worlds everyday. I think it's a joy to do both!

What bits of advice would you give to aspiring audiobook narrators?

It is really not something you can do as a "side hustle". Like any profession, to do it well, you have to be committed, get training, and like most artistic endeavors, it's not likely to make you a financial killing.

What's next for you?

I am starting a boutique audiobook publishing company called Treasure Valley Books specializing in bringing older titles back to life in audio. So, looking for buried, literary treasures!

Bonus question: Any funny anecdotes from inside the recording studio?

My dogs like to be wherever I am so they like to be in my studio with me when I'm recording. But I sometimes have to kick them out if they start snoring!! My microphone is so sensitive that it picks up their snoring and ruins my recording. The other sound I struggle with, and this is the bain of existence for many narrators, is stomach gurgles! It sounds funny, but when my stomach won't stop growling, I have to stop recording. And eating doesn't always solve it!


Plugging you into the audio community since 2016.
Sign up as a tour host here.