Author: JMD Reid
Narrator: Zachary Johnson
Length: 22 hours 53 minutes
Series: The Storm Below, Book 4
Publisher: Dreaming Between Worlds Publishing LLC
Producer: Audiobook Empire
Released: May 25, 2021
Genre: Epic Fantasy
None return from beneath the Storm!

Ary and Chaylene have fallen beneath the Storm. Plunged into a world of eternal darkness and rain, they have to survive. Hunted by the Stormridres, what hope does Ary have to end the Storm now?

To lead him to the light, Chaylene must pay the ultimate price!

Above the Storm, the Golden Daughter hatches. The embodiment of the Dark Goddess shines with bright light. Deceiving all, even the grieving Zori, the Golden Daughter spreads her message of faith and zeal.

All shall burn in her cleansing fires!

With the fall of Ary and Chaylene, Estan and Esty are lost. How can they stand against the golden darkness descending upon the skies?

Will Estan have the courage to stand against the Dark Goddess?

When evil comes wrapped in good, what chance does the world have?

You have to listen to this epic and powerful fantasy novel to find out!



J.M.D. Reid has been a long-time fan of Fantasy ever since he read The Hobbit way back in the fourth grade. His head has always been filled with fantastical tales, and he is eager to share the worlds dwelling in his dreams with you.
Reid is long-time resident of the Pacific Northwest in and around the City of Tacoma. The rainy, gloomy atmosphere of Western Washington, combined with the natural beauty of the evergreen forests and the looming Mount Rainier, provides the perfect climate to brew creative worlds and exciting stories!
When he's not writing, Reid enjoys playing video games, playing D&D and listening to amazing music.
Lover of mathematics, devourer of science fiction, and connoisseur of the dad joke. When he's not doing math for business or fun, he's devouring science fiction and fantasy, reading up on scientific advancements, going for a jog, or, on all too rare occasions, taking a refreshing swim at the beach. At your service, you shall have an able storyteller and gifted conveyor of information. Experienced in narrating fiction, from the romantic to the post-apocalyptic, and nonfiction, from the historical to the corporate, and armed with the tools to make it all sound great, Zachary promises that, no matter the job, you'll be read-iculously pleased!
At Audiobook Empire, audio reigns supreme, narrators are hailed as heroes, and headphones are worn with pride.
Marrying pomp and circumstance with quality you can count on, Audiobook Empire is a full-service production house that produces and promotes audiobooks with gusto.
Give your audiobook the imperial treatment by producing it with Audiobook Empire.
Book 5 of The Storm Below is in production and will be released this summer!
Sign up here to receive an advanced listening copy (ALC)!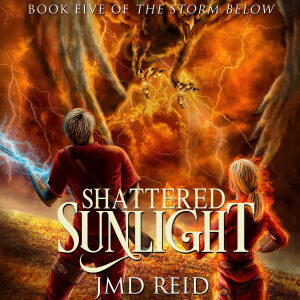 Plugging you into the audio community since 2016.
Sign up as a tour host here.