Memoir
Date Published: 3/2/21
Publisher: FinnStar Publishing
"There's a guy. He was hit by a truck."
On a rainy November day, Mia Hayes' husband left for work on his Vespa. Normally, she would have driven him, but Mia was waiting on a phone call with an editor and didn't have time.
She never saw that caring, loving version of her husband again.
The fallout from his accident–Mia's guilt and her husband's PTSD, memory loss, and depression–consumed their lives over the next five years as her laid-back husband changed into an angry man with few memories of their past. Desperate to hold her fragile family together, Mia ignored her own unraveling and plunged into bipolar depression.
As she searched for answers to unanswerable questions, Mia moved her family from San Francisco to Paris, France before landing in a leafy Washington, D.C. suburb where she tried to find a fresh start only to become embroiled in a scandal of her own making.
Through ups and downs, mental illness and bad decisions, Mia struggled with what it means to be a good wife and mother, whether saving her marriage was worth the pain, and understanding that healing is a personal journey.
Always Yours, Bee is a heartbreaking yet triumphant and brave look at a woman, a marriage, and a family falling apart and coming out stronger. Told with clarity and introspection, it captures the terror of losing the person closest to you—yourself.
~~~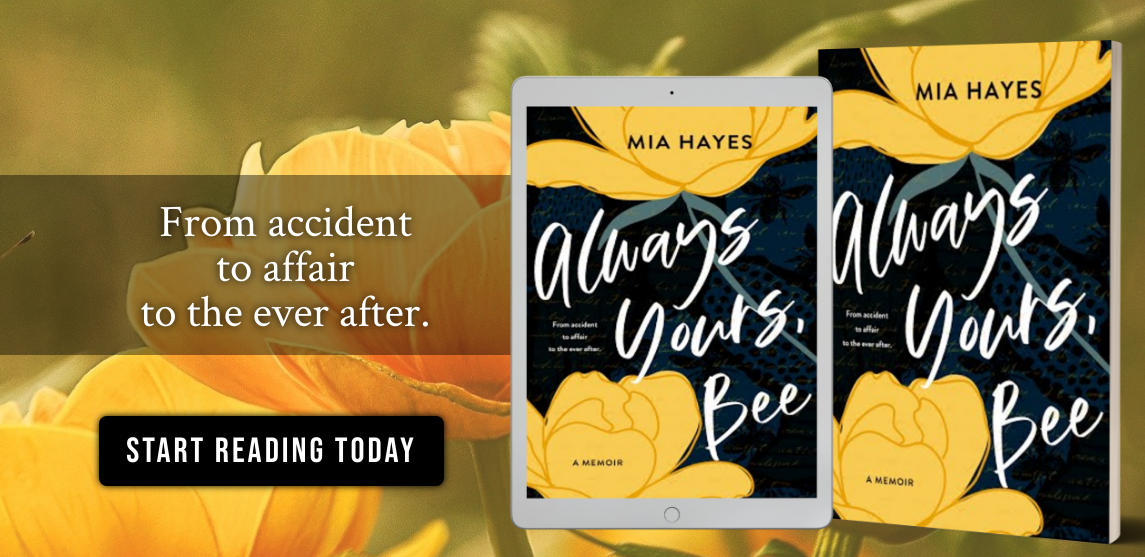 ~~~
EXCERPT
Prologue
November 2004
Lemonade light filtered through the fog, casting a warm, golden tone across us as we watched Ryan run down the empty beach, a kite string clenched in his tiny fist.
November usually brought rain to San Francisco, but this particular day was clear, and we wanted to take advantage of the sun—even if it was chilly and damp out. Surfers bobbed off the coast, waiting for their ride, and gulls skittered along the shoreline. Later, after we ate our picnic lunch, we planned on exploring the tide pools.
James snapped a picture of Leo and me snuggled into a fleecy blanket. I waved him over to us, and he settled into the sand, his jean-clad leg touching mine. He tossed his arm over my shoulder and hugged me close.
"This is nice," he said. Ryan had stopped running to inspect something on the beach, and Leo crawled off my lap into the sand. "But this is more fun." James turned and tried to tickle me through my layers of bulky clothes.
We laughed and smiled and were so very happy.
That's how I want to remember us.
Golden.
The Accident – Chapter 1
November 23rd, 2010
Why wasn't my phone ringing? She said seven thirty.
Relentless late-November rain battered the trio of windows behind me. It was nearly eight in the morning, two days before Thanksgiving, and I sat in the tiny family room of my San Francisco flat trying not to envision every reason why my phone was silent. Had she realized I was a hack and changed her mind?
Relax, no one is ever on time.
I opened the well-worn notebook in my lap and studied the questions my husband, James, and I had excitedly crafted the night before. Earlier that year, I had signed with a New York literary agent, and now an editor wanted to talk to me.
My writing had been squeezed in during sports practices and after the boys went to bed. James traveled frequently for work, and I often stayed up well past midnight to write despite long days of work, volunteering, and mothering.
I hadn't mentioned my new passion to James until I received three offers of representation the day I submitted the manuscript to agents. He had been baffled that I had had time to write a full-length novel but not surprised that I had actually written a novel. As he put it, it was a very me thing to do.
I stared at my blank phone screen. Why hadn't she called?
In an explosive burst of boy-noise, Ryan, my nine-year-old son, sprinted into the room and flopped on the end of the couch. His Catholic school uniform shirt was untucked, and his two blond cowlicks stuck straight up. I glanced at his feet. No socks or shoes.
"Can Grandma get me a bagel?" He gave me a hopeful, missing-tooth smile.
I set my notebook aside. "Did you ask Grandma?"
"She said if it was okay with you. I'll even ask her to get one for Tate and Leo, too."
I chuckled. "Do you really think Grandma would walk you all to school, get only you Boudin's, and leave your brothers hungry?"
Ryan shrugged.
"Go finish getting ready, and if you have time, Grandma can get all of you bagels."
Ryan leaped off the sofa and raced past James standing in the doorway of our family room.
"Hey! No hugs?" James called after Ryan.
"Sorry!" Ryan threw his arms around James's torso. "Love you!"
James rubbed the back of Ryan's head. "I love you, too."
Ryan broke free and his footsteps thundered down the stairs. "We can get bagels!"
Our front door slammed, followed by my in-laws' door closing. They lived in the flat below and often helped care for the boys. My mother-in-law, Molly, worked at their Catholic school—the same one both she and James had attended.
I was immensely proud that my boys were the fifth generation of James's family to live in our three-story house, and I planned on never leaving. James had grown up there and so had Molly, and now it was the boys' turn. Molly and Joe, my father-in-law, lived in the second-level flat, and my family lived in the third level. The garage and a small in-law unit occupied the ground floor.
James's family roots ran deep in San Francisco, a park was even named after them, and I wore it as part of my identity. We were the Doyles from 11th Avenue (even though we were now the Suttons), and that meant something in our small community.
Molly and Joe were good sports about allowing me to put my own stamp on the house, going along with whatever my current obsession was. When I said I wanted to be a modern homesteader and turn our deep backyard into an organic city farm with fruit trees, bees, and chickens, they didn't blink, and they let James buy me a chicken coop for our anniversary.
No matter what my current obsession was—like starting an online shopping site, becoming a personal shopper, or taking on the task of revamping our school and church's annual festival—James supported me. I was a whirlwind, and he was the calm hand that steadied the ship.
"I'll call when I get to work. I want to know how everything goes." James's Chelsea boots clomped against the hardwood floor as he walked toward me. He wore dark jeans and a black leather bike jacket that showed off his trim figure, and the olive-green messenger bag I had given him for Christmas bounced off his hip. He hadn't bothered to do his messy, brown hair because he'd fix it at work after he took off his motorcycle helmet. I teased him that he carried more beauty products in his bag than I did, but really, I gave him a hard time because he was more pulled together than me.
Unlike James, my days consisted of mom things like going to the park and dust-bustering Cheerios off the floor. I did, however, shower, dress, and do my makeup every day after running a 5K at 5 a.m. The other moms marveled that I always managed to look presentable with three kids under the age of ten. I'd laugh and say it was my secret weapon, Molly, but the truth was the thought of anyone seeing me less than perfect bothered me.
"Are you sure you don't want a ride? It's pouring." A mist of grayness swirled outside. Driving James meant I would have to take the call in the car, but I needed to offer. After all, he would have insisted on driving me.
"I'll be fine." James flashed a reassuring smile. "I don't mind getting a little wet, and you need to focus." Every day, James rode his cherry-red Vespa downtown. Taking Muni was an exhausting, smelly experience that took three times as long, and parking a scooter was cheaper than parking a car. It had been a great solution.
The rain had eased into a gentle sprinkle. Really, it was no more than the heavy fog that normally hung over the Richmond District. "We should get you a rain shield."
"Probably." James checked his phone's weather app. "If I go now, I should be okay."
"Are you positive you don't want a ride?" I nervously tapped my notebook. Everything I had worked for was coming to fruition, and I didn't want to mess it up.
"Positive." James placed three kisses on my forehead–one for each of the boys. "You're going to do great, Bee. Just be you. Everyone loves you."
"But do they love my book?"
"The editor wouldn't call you if she didn't." James playfully pat my cheek, cupping my face on the last tap. He lifted my chin and stared into my eyes. A sense of calm ran through me. "It's going to be great, just like everything else you do."
I loved making James proud. He worked hard for us, and even though he constantly told me my job of being a mother and wife was more important than his, I felt I should do more, contribute more, be more.
My phone rang, and I startled. James mouthed, "I love you."
Unlike every other day, I didn't sing out my normal, "Be good. Be careful. Don't do bad things. I love you," as he disappeared down the hallway. My phone was already to my ear.
The house shuttered when James slammed the front door.
I never saw that version of my husband again.
~~~
About the Author

Mia is a notorious eavesdropper who lives in Northern Virginia, outside Washington DC, with her husband, sons, two cats, and Harlow the Cavapoo.
She drinks too much green tea, loves traveling, and has mastered the art of procrastination cleaning.
Contact Links
Instagram: @miahayesauthor
Purchase Links
~~~
~~~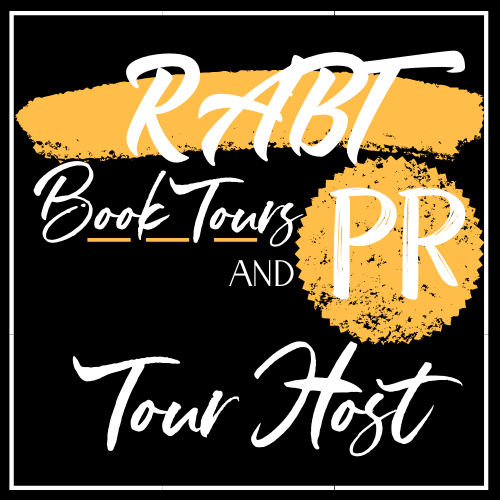 ~~~