Author: Pamela S. Thibodeaux
Narrator: Terri England
Length: 7 hours 30 minutes
Series: Tempered, Book 1
Publisher: Pamela S Thibodeaux Enterprises LLC
Released: June 10, 2019
Genre: Inspirational Romance
Rancher Craig Harris and veterinarian Tamera Collins clash from the moment they meet. Innocence is pitted against arrogance as tempers rise and passions ignite to form a love as pure as the finest gold, fresh from the crucible, and as strong as steel. Thrown together amid tragedy and unsated passion, Tamera and Craig share a strong attraction that neither accepts as the first stages of love.

Torn between desire and dislike, they must make peace with their pasts and God in order to open up to the love blossoming between them. It is a love that nothing can destroy when they come to understand that only when hearts are tempered, minds are opened, and wills are softened can man discern the will of God for his life.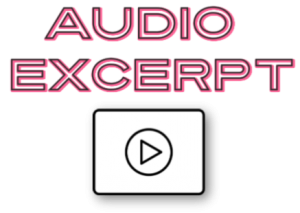 Tempered Fire, Book #3 in the Tempered series is scheduled for release on audiobook this month.
Click here for a blooper reel from the upcoming release!

Award-winning author, Pamela S. Thibodeaux is the Co-Founder and a lifetime member of Bayou Writers Group in Lake Charles, Louisiana. Multi-published in romantic fiction as well as creative non-fiction, her writing has been tagged as, "Inspirational with an Edge!" ™ and reviewed as "steamier and grittier than the typical Christian novel without decreasing the message." Sign up to receive Pam's newsletter and get a FREE short story!

Terri England is a radio personality, podcast host and book narrator. She is the mother of two daughters and one very stubborn (but smart) Doberman named Jackles. She loves music, both stars (Wars & Trek) and is obsessed with the supernatural. In her own words, Terri is "a geek and proud of it."

3.5/5 Stars
A clash of personalities and wills before they're even introduced sets the stage for the spirited relationship between Tamara Collins and Craig Harris.
She's a young veterinarian trying to move on past tragedy and trauma, and he's the grandson of the wheelchair-bound rancher who hired Tamara for the summer. Craig's past is no less traumatic than Tamara's, and part of the reason for his hard, gruff exterior.
Things don't get any better after the couple is introduced. Craig is determined to run Tamara off until he witnesses her superior vet skills firsthand.
Tempered Hearts is well-written Christian Fiction and I applaud it for taking on the daunting subject of premarital sex. The story doesn't shy away from difficult scenes, and they're handled well. However, there were too many of them for me. How many times must one touch fire to know it's hot?
The story worked best when this couple was talking, open and honest, without name-calling and attitudes. I got to see two people who cared for each other struggle with their own internal demons while each tried to get understanding from the other. And I cared.
But while I cared about those moments and their Christian journey, they were not my favorite people as individuals.
With her constant fits of attitude and name-calling, Tamara seemed more like a spoiled teenager than an accomplished medical professional. Craig's irritable, grumpy chauvinist behavior was equally annoying. Their whole battle-of-the-sexes routine seemed over the top and outdated. Add the times she slapped him and he threatened to beat her, and I was eye-rolling myself into a migraine.
As a talented veterinarian trained in the care and breeding of animals, especially horses, Tamara's naiveté about her own body and sexuality wasn't realistic as her innocence was commented on often.
However, what kept dragging me out of the story was the constant references to Tamara's looks. I don't think there was a character in the story who didn't say how beautiful she was… several times. They also spoke of her strong character and heart, but those comments were always prefaced with awe-struck statements of her outward appearance. It tainted the story with a shallowness I didn't expect.
I did not dislike Tempered Hearts. I enjoyed the story and the realistic struggle of the Christian journey, but for me, the central characters transformed too quickly, shedding their flaws to come to understanding and a rushed ending.
I volunteered to review this audiobook as part of my participation in a blog tour with Audiobookworm Promotions. The tour is being sponsored by Pamela S. Thibodeaux. The gifting of this audiobook did not affect my opinion of it.
The Tempered Series Giveaway: $25 Amazon Gift Card


Plugging you into the audio community since 2016.
Sign up as a tour host here.