~~~
Memoir
Date Published: July 27, 2019
Publisher: Bookstand Publishing
"This Ain't My Life" is the compelling story of author Bilal Alaji's journey to finding his destiny. Growing up Muslim, Bilal experiences many trials throughout his youth with his father leading him down an arduous path. As he fights and claws his way out of every obstacle he relies on his faith to pull him through. Bilal shows his willingness to never give up on finding his true purpose. As he goes through failed marriages, criminal proceedings, the shelter system, and lost jobs; Bilal refuses to believe that this is the life he was meant to live. He challenges his reality and what he believes by stating, "This Ain't My Life."
~~~
EXCERPT
Prelude
"Allahu-Akbar." These were the first words I ever heard as my father whispered them into my right ear four times after my birth.
My parents chose my name to honor my solemn strength. In Islamic tradition, it is customary to wait seven days to name a child in order to study their nature. Once the child's strongest behaviors have been identified, the name that best describes them is chosen. Bilal—a slave from Abyssinia during the time of the Prophet Muhammad— demonstrated   a   strong   will   and   amazing   courage   against   his oppressors. Bilal was known throughout Arabia as the caller to prayer and the accountant of the Prophet. Among the first to accept the faith of Al-Islam, Bilal fought in many battles with the Prophet and because of this he is revered as a hero in Islamic faith and culture.
In 1974, the year of my birth, turmoil erupted throughout the American Muslim world. The Nation of Islam was in the midst of losing their leader, the Honorable Elijah Muhammad. His son, Wallace Muhammad, was poised to take the Nation of Islam in the direction of orthodox Islam, known as Sunni Islam. The difference stemmed in the theological views of how they viewed God and his prophet. My father was an ardent follower of the Nation of Islam, but during this split, he began to follow the philosophy of Wallace Muhammad, which led him to learn of Bilal of Arabia and his contribution to Sunni Islam.
My mother brought me into this world through intense prayer. She desired to have an extraordinary child, one whom God would use for His will and purpose. Her 6 pound 13 ounce bundle of joy arrived on September 20, 1974, in Newburgh, New York. She always said I was a good baby, but all babies are good by a mother's account. My father testified to my solemn spirit.
My parents, born Carolyn Mims and Mark Thompson, are native New Yorkers. My dad hailed from the Bronx, while Mom lived in almost every borough at some point. Both of my parents had torn lineages that went no further than one generation back. My mom, who we  called  Ummee, never  knew  her  parents.  Her  father  killed  her mother when he threw her down the stairs in a fit of rage. My grandfather on my father's side had been the product of a biracial relationship, something severely frowned upon during the early part of the last century. He was left on the steps of an orphanage, so we never knew his lineage. Short roots caused our family to shrink. We knew nothing more of our family beyond our paternal and maternal grandparents.
Newburgh, New York, is a small town about 70 miles outside of New York City. My father, now known as Sayeed Alaji, who we called Abi, attended New Paltz College and was sent to Newburgh to be a minister and open a chapter of the Nation of Islam there. His family could not understand why he was moving so far away to an unknown place and so, upon my birth, my parents went back to the Bronx to be closer to family and possibly to show me off.
Ever since I arrived on this planet, I knew I was destined for greatness. I could feel it deep down in my bones. I would lead an extraordinary life. I would fight and claw my way around every obstacle life threw in my way. Over the years, I tried everything from dancing, rapping, and owning businesses to being a minister, father, husband, athlete, and above all a good Muslim. Nothing stopped my intensity to find my calling.
My experiences as a Black Muslim man living in America have compelled me to tell my story of desire and determination to attain greatness. Many have tried their hardest to stop me from reaching my destination.  Life  has  also  stepped  in  to  teach  me  some  valuable lessons. The most important lesson I have learned is that nothing can stop God's will and man's determination.
With God on your side, what can stop you? Only you.
I have experienced pain that I did not know a human could endure in my search for my purpose. In the process, I've learned more about myself. My story is unique in a way, but it also represents the experiences of many Black Muslim men in this country. My goal in telling my story is to inspire dialogue in minority communities about the struggles and challenges we face. I want to encourage people to open up and be vulnerable to our experiences in order to find our narrative about what it means to live as a minority in America. I hope we will all see strength instead of stigma in vulnerability.
~~~
About the Author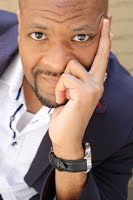 Bilal Alaji is an entrepreneur, mentor, investor, motivational and public speaker. As the Ceo of Illustrious Shoes and O' Ramadan, Bilal, is a transformational leader that uses his platform to inspire and educate others. With over 15 years working with youth in group homes, transitional housing facilities, and corrections, Bilal uses his experiences to motivate youth. "My life is my message", said Gandhi. So, Bilal has chosen to use his life' s story as a way of communicating with today's youth.
Also known as LOGIC THE OFFICIAL, Bilal spent 20 years as an emcee. He performed at such venues as the world-famous Apollo theater and the Nets arena. During his tenure as an artist, he had the privilege of working/ performing with artists such as Shanice, LL Cool J, Big Daddy Kane, Gang Starr, Brand Nubian and more. LOGIC THE OFFICIAL generated 2 CDs and 2 street CDs with a compilation of recorded music.
Bilal left the limelight of the music industry obtaining his MBA from Metropolitan College of New York. While in college Bilal worked as a student mentor providing support, counseling, and resources for students to meet their educational goals. After graduating college Bilal became the founder/ Ceo of Illustrious Shoes and O'Ramadan.
Now, the author of This Ain't My Life, Bilal has shared his story in an effort to help inspire others to live their best life. Bilal speaks to diverse audiences sharing strategies, techniques, and life experiences that will ultimately change lives. There is no obstacle too great for Bilal. Bilal is living proof that "what doesn't kill you, only makes you stronger".
~~~