~~~
Children of the Glaring Dawn, Book 1
Published Date: November 19, 2019
Publisher: INtense Publications LLC
Ihva is horrified to find out she might be the most dreaded individual in all of Gant, but before she can discover the truth, she is whisked away on a rescue mission. Prince Jasper's fiancee has gone missing. As they chase his betrothed all over the continent, Jasper is hiding secrets of his own, and he's willing to risk his life to keep them. Is Ihva the feared harbinger of the world's doom? Will Jasper find a way to save his bride and his kingdom? Only time will tell the answers, and then it might be too late.
~~~
~ Guest Post ~
3 Reasons to Write and Read Epic Fantasy
by Lauren C. Sergeant
There are some who would brush aside fiction and especially the fantasy genre as irrelevant. They'd say the events of epic fantasy novels are far outside the realm of normal human experience and therefore don't relate to us. I'd argue something different—that epic fantasy can actually bring us closer in touch with our own realities. Here are three ways how this works.
We escape to discover purpose.
Many people admit that they read fiction to escape real life, if only for a little while. Some might say it's about finding problems that are simpler than our own or that seem somehow more manageable, but I don't think so. I know that when I'm writing, I'm no longer facing social discomfort, fretful anxiety, or deep-felt despondency, but I become part of the struggle of a group of characters to overcome an ancient evil that could destroy their entire world. I'd call my characters' lives more epic and their problems more world-shaping than my own. It's because of the gravity of their conflicts that I flee to them. Their struggles seem so much more tangible, their meaning and significance are clear, and I can see in them a reason to fight.
We reconnect with reality as we learn.
There's something about watching someone else, including fictional characters, struggle through internal conflict and suffering that brings a certain understanding to us. It's perhaps the reason for our hypocrisy most times—we can see in others what we don't recognize in ourselves. Yet if we take the time to draw parallels and connections between them and us, we find that our own thought patterns and emotions become clearer. Epic fantasy characters act out dramas unfolding in our own lives in a way that makes things simpler. When we reflect on them, the lessons we draw can be intensely personal.
We explore ideas.
When I started writing the Children of the Glaring Dawn series, I was just telling a story. Then one day halfway through book 2, I realized what I was writing—an exploration, an investigation into two perspectives vying for supremacy, those of pessimism and optimism. I was going on a philosophical adventure into the interaction between two opposing viewpoints and waiting on the edge of my seat to see how they would shape each other. I have seen the many points of tension, conflict, compromise, and growth from both sides. Fantasy stories give a dramatic backdrop for themes and ideas to come across, and in both reading and writing this genre, we are able to consider topics from a different angle.
More than a Pastime
Reading and writing epic fantasy have stretched my mind and grown me in ways I didn't know possible. If you've never read a fantasy novel, I'd encourage you to try. For those of you who already do, keep at it, and don't write it off as a mere pastime. These could be the most transformative moments of your life.
~~~
About the Author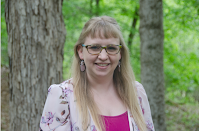 Lauren C. Sergeant is a poet, a founding contributor for the Auburn-Opelika Moms Blog, a writer, and the author of Light of Distant Suns, the first book in the Children of the Glaring Dawn series. Her writing career began in junior high with composing poetry, and by age 26, she started on her first novel. She has always had a passion for fiction as a means of both escape and reconnection to the world around her. Her fascination with world customs, her deep interest in personal relationships, the plethora of spellbinding stories she has read and watched, and her enthusiasm for the fantasy genre combine in wondrous ways in her engaging debut novel. Shaped by these influences, she creates compelling cultures and fascinating, relatable characters in lush imaginary realms.
In her spare time, when she is not writing, you can find her curled up on the couch with a good book, whether it be fantasy, history, physics, or calculus. She lives in Opelika, Alabama with her beloved husband and dear son, though she grew up in Southern California and never imagined calling the American South home.
It seems the unanticipated things in life are sometimes the most delightful, though.