Author: McKenzie Austin
Narrator: Gerard Marquez
Length: 15 hours and 30 minutes
Series: The Panagea Tales, Book 1
Publisher: McKenzie Austin
Released: Aug. 6, 2019
Genre: Epic Fantasy


The world's end was his beginning.

Whole chunks of earth are withering away from the mainland and falling into the sea. Natural disasters are claiming thousands of lives. Prayers are no longer answered by gods. Prayers are answered by machines and the Time Fathers of Panagea.

Nicholai Addihein, one of the eight ruling Time Fathers, struggles to save the lives of his people. After a single moment of misunderstood treason, he must also save his own.

While running from the wrath of Panagea's other Time Fathers, Nicholai lands in peculiar company. Can a fabled immortal, a crew of societal rejects, and a silver-haired woman with a mysterious past breathe life back into a world on the brink of death?

With all of existence at stake, Nicholai and the others prepare to fight until their last breath to change the fate of Panagea. Who would ever guess that success might be just as fatal as failure?





Like many authors, McKenzie took to writing early. She crafted numerous tales throughout childhood that served as an escape from the solitude often accompanying the inability to 'fit in' with the normal crowd.
The award-winning author now resides with her family in Green Bay, Wisconsin, where she draws inspiration for her fantasy novels through copious amounts of craft beer and cheese.

Gerard got his start at an early age, performing with various Opera companies and teams throughout Australia. After moving to America as an adult he made the transition into musical theater, and voice-over. Gerard has worked with various Opera and Musical theater companies throughout southern California and LA. Gerard has been working as a narrator now for the last couple of years, and was incredibly honored and excited, when McKenzie Austin approached him to work on this great series.
Tell us about the process of turning your book into an audiobook. Oh, gods. It was a peculiar mixture of terror and excitement. I had never dipped my toe in the audio pond before, not as a book lover (I prefer paperbacks) and not as an entrepreneur, either. I had no idea what to expect. I put a few scenes up on ACX, wondering if anyone would even audition. I ended up getting somewhere around fifteen auditions. Not only was Gerard the first, but man, that guy did his homework. I don't know if it was research he did about the characters before the audition or what, but he nailed personality types on the first go. Luckily, he knew way more about the audio world than I could ever hope to know, so he was very keen on walking me through the process step by step. Hearing your words come to life like that is an indescribable feeling. I encourage other authors who are on the fence to give it a go, even if they never pull the trigger after the audition process. 
Was a possible audiobook recording something you were conscious of while writing? Never. It didn't even dawn on me as a possibility until whispers of the wonderful world of audio started floating around in my book marketing groups. They said it was "on the rise". I thought I'd roll the dice on it, and give it a try. 
How did you select your narrator? The other narrators who auditioned were awesome; I give huge credit to anyone willing to put themselves out there in the creative field. Ultimately, I chose Gerard because he perfected one of my more 'animated' characters in his sample. Many of the others who auditioned realized the characters were, for lack of a better word, 'pirates'. Because of this, I believe they defaulted to a stereotypical gruff, baritone 'piratey' voice. That is not at all who Brack 'The Rabbit' Joney is, and Gerard managed to capture his persona. I realize it's sort of a silly thing, since Brack is a minor character at best, but if he could dedicate that kind of accuracy to the minor cast members, there was no fear that he'd give anything less to the main characters. 
How closely did you work with your narrator before and during the recording process? Did you give them any pronunciation tips or special insight into the characters? Gerard had exquisite communication skills. Very timely in his responses. We didn't talk much over the course of recording, but when we did, it was always swift, efficient, and enjoyable. We didn't talk much about pronunciation (other than to verify how to pronounce the name of the land mass). At one point, he did reach out and ask if I wanted him to re-record his pronunciation of Chronometer, but I found his pronunciation charming, and chose to leave it. 
Were there any real life inspirations behind your writing? I heard once, and I don't remember the source, that every writer has a little bit of each character inside themselves. I believe that to be true. Since The Panagea Tales series is heavily character-based, a lot of my own feelings and psychological assessments come through in their mannerisms, but it's always fluid. Some days, you're a Kazuaki Hidataka, blind-raging your way through sh*t with no remorse. Other days, you're a Nicholai Addihein, slipping into a naive state of martyrdom and kindheartedness. The feelings in the series are inspired by real life; and I've been told by a few readers that the content feels 'real', in the sense that our world is moving further and further into a depleted state. I can only hope that changes some time in the near future. I rather enjoy living here, and don't wish to watch the world suffer. 
If this title were being made into a TV series or movie, who would you cast to play the  primary roles? Oh, man. I've never really thought about it. Nicholai would need to be played by someone who captures that naive willingness to do 'good'. I think Tom Welling would do an excellent job; he was great at it in Smallville. Emma Watson would be a wonderful Umbriel; her kind heart exudes through her in a really compelling way. And Kazuaki? If Hugh Jackman played Kazuaki, I would have a gods-damned heart attack. Hugh-freaking-Jackman. UGH. Is there nothing he can't do? How does one man manage to single-handedly be an authoritative badass while still wearing a thin veil of empathy on the surface of his expressions? Hugh Jackman is amazing! (Is my husband reading this? Don't mind my gushing, handsome face, you know I love you.) 
What do you say to those who view listening to audiobooks as "cheating" or as inferior to "real reading"? I never fully understood people who put time and energy into ripping apart the preferences of others. Is driving a car to work 'cheating' because we have legs to walk? Is writing on a laptop 'cheating' because pencil and paper have been around for far longer? We live in a technology-based world, where luxuries are constantly evolving. There are people out there who want to make our lives easier through new avenues of exploration. Audiobooks still spark imagination, the same as any eBook or paperback. If anything, I think it breathes new life into a story, the same as a film adaptation would, or turning a series into a graphic novel. It's just a different way to enjoy something – and you'd have to be a pretty big dick to want to deprive someone of joy. 
How did you celebrate after finishing this novel? I bought a bottle of wine that I had no business buying, because no normal human being on a budget would ever spend what I spent on something that was going to be consumed in the blink of an eye… It must have stared at me in the wine rack for weeks while I neared the end of the novel. When I finished, I opened that bugger and drank the entire thing. The hangover was worth it.
Have any of your characters ever appeared in your dreams? No. I wish they would. They're probably like, "Ugh, we spend enough time with this chick anyway, we don't need to see her in her dreams at night, too." To be fair, they're probably wise to steer clear of my dreams. An unleashed, unpredictable imagination can be a terrifying place to be. 
What bits of advice would you give to aspiring authors? Do it. Do the thing. Put it on that digital paper, my friend. Take it one step at a time. When you have it down, and edited, and polished, publish it. Send it out, or do it yourself. Either way. Is it frightening? Unequivocally. Will you lose sleep at night after you receive your first bad review? Without a doubt. Will it all be worth it? Whole heartedly. What an experience it is, to write a book, and to have people read it. Forever and always, you'll be able to hold it in your hands and say, "I did this. I was brave enough to do this." That's not something a lot of people can say. And even if nobody else in your life thinks you should, I want you to know that I believe in you. I believe in dreamers. You can do this. If you're courageous enough to take that first hard step, I'm already your biggest fan. 
McKenzie Austin's Top 10 Songs that Inspired Her Work
Music is incredibly inspiring. I've listened to my fair share of tunes while writing The Tree That Grew Through Iron (actually, the whole of The Panagea Tales series, really) and there are certainly a few that stand out as having been played on 'repeat' during several scenes.
Head Full of Doubt/Road Full of Promise by The Avett Brothers – This is/was the very mantra of Nicholai Addihein. Throughout the series, he's surrounded by this looming 'darkness', and it takes many different forms depending on which book you're on, but he always holds fast to this (often times idealistic) dream that he can make things better for everyone. He wants so badly to do what's 'right', but must come to the realization that what's right for some will never be what's right for all. This song is actually what inspired the title for the final book in the series (The Canary That Sang to the World).
The Sound of Silence by Disturbed – This particular song resonated more with book two in the series (The Gods Who Harvested Men) but the message still applies to The Tree That Grew Through Iron. 'Silence like a cancer grows' is, perhaps, the strongest line. Things deteriorate as far as they do because we're often too scared to speak up and change the circumstances. Nicholai is so desperate to help everyone, to 'reach them', but the outcome of his efforts often fail to yield the results he hopes for. The most admirable thing is that he keeps trying, regardless of how often he fails.
Pompeii by Bastille – This song encapsulates the entirety of the series, but touches The Tree That Grew Through Iron in a far more literal way. Everything around the primary cast is changing. The physical landscape of Panagea, their mental endurance to continue fighting for a revolution, their emotional reactions to their circumstances… but through everything, through all of the shifts and challenges and obstacles, at the heart of it all, one thing hasn't changed at all. Camaraderie runs deep, and is a critical component of their interactions with one another.
Leave a Light On by Tom Walker – I know these are supposed to be about The Tree That Grew Through Iron, but I can't help falling back to songs that remind me of the series in its entirety. In book three (The Serpent That Swallowed Its Tail) this song really resonated with me, as several of our characters let their obsessions consume them in a rather unfortunate way. There's always that one rock for the individual who is slipping though… the one who will 'leave a light on' for he or she who is lost in the dark.
Lost by Coldplay – This one reminds me of Nicholai in particular, but certainly fits the bill of the crew, as well. "Just because I'm losing doesn't mean I'm lost." And poor Nicholai, he loses. Quite a bit. His good intentions often blow up in his face, but he gets right back up and tries again.
Radioactive by Imagine Dragons – This song paints a picture of Panagea to me. "Waking up to ash and dust" couldn't possibly be a better fit to the world our characters are living in. The vibe captures the raw spirit of desire for a change, too. For a revolution. I love it.
broken by lovelytheband – What better lyrical song to highlight the unnatural relationship of Kazuaki and Bermuda? Traditional love songs just wouldn't do. He adores her dearly, but doesn't know a damn thing about lovey-dovey sentiment. I like 'broken' because the nicest thing that's able to be said is 'I like that you're broken', which is hardly a compliment at all, but somehow, the way it's said, you know it's meant as a term of endearment. It's Kazuaki and Bermuda, for sure.
Long Time Traveller by The Wailing Jennys – One of the more obscure songs that reminds me of the series, but this one goes through my head each time a character dies. It also reminds me of Kazuaki's perpetual journey to find a way to terminate his contract with immortality, so that he, too, could join those he bonded with in the afterlife. "I'm a long time traveling here below, I'm a long time traveling away from home" guts me in a way, when I think of the psychological ramifications that would stem from watching lifetimes of loved ones rise and fall.
All of Me by John Legend – I feel a little silly posting so many 'love' songs in this list, since the few romantic relationships that exist in the Panagea Tales play a far less poignant role than the camaraderie and the general pursuit of completing the primary goal… but this is another one that reminded me of Kazuaki's affection toward Bermuda. Maybe I enjoy them so much because he rarely puts his sentimentality on display, so it's fun for me to think about that (almost) non-existent side of him.
Someone You Loved by Lewis Capaldi – I can't really dive into why this one represents the book(s) without ruining some pretty big moments in the story. Just know that it's as applicable as it is heartbreaking, and that's why it made the list.

Giveaway: 3-month Audible Membership

Sep. 22nd:
Valerie Ullmer | Romance Author
Sep. 23rd:
Sep. 24th:
Sep. 25th:
Sep. 26th:
Sep. 27th:
Sep. 28th:
Momma Says To Read or Not to Read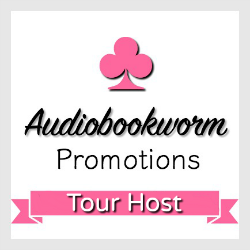 ➜Sign up as a host here