Author: Jason D. Morrow
Narrator: Stacy Gonzalez
Length: 8 hours and 39 minutes
Series: The Starborn Redemption, Book 1
Publisher: Jason D. Morrow
Released: April 20, 2019


The Containment Zone is a 500-mile radius surrounded by mountains and closed in by gates. No one can leave, and anyone who tries will die. Within are lawless bandits, corrupt soldiers, and once-human greyskins that hunt down people to spread the virus. Some say the Containment Zone is where the greyskin virus originated. Others say the people inside are little more than lab rats being studied by the nefarious Screven government.

When 12-year-old Skylar and her father, Liam, are caught trying to escape, they are taken to Vulture Hill, a government prison camp no one has ever left alive. Inside the prison, Skylar learns that the facility is little more than a testing site for finding people of a certain bloodline – the Starborn. These are people with special powers that manifests in various spectacular ways, and Screven wants to exploit them.

Skylar has always known there was something special about her family. For years, her father has had the ability to completely numb pain with just a thought. Lacerated skin, broken bones, they can all be ignored with enough concentration. Learning that her father is a Starborn means Skylar is probably one too, placing them both in extreme danger.

Now, father and daughter must do the impossible and break out of a prison known for killing so many. But Liam has leverage the government may be willing to buy – the cure for the greyskin virus.

The first two books of The Starborn Redemption are set 40 years after The Starborn Ascension and 17 years before The Starborn Uprising. Each Series can be listened to independently.



Jason D. Morrow is the author of more than 15 books in the Science Fiction and Fantasy genres, including The Starborn Uprising, The Starborn Ascension, The Starborn Redemption and Prototype D.

Stacy Gonzalez is a Chicago based narrator and commercial voice actor. She is feisty, bright and expressive. Stacy specializes in YA, self-help and romance, especially when the narration calls for a good handle on comedy, wit and sass. Audiofile Magazine has praised her pace and her ability to create bold characters. Stacy, who is half Colombian, speaks conversational Spanish. She has a great love for Old Hollywood—watching the movies and listening to audiobooks about any and every aspect of it! Follow her on Twitter at @stacygonzalezvo or visit her website at stacygonzalezvo.com.

Q&A with Narrator Stacy Gonzalez
How did you wind up narrating audiobooks? Was it always your goal or was it something you stumbled into by chance?

I did theater for years. Then, I got married and had a child, and I just felt there was no way I could keep up with the theater schedule (and terrible pay, at least in Chicago). We moved to the suburbs, and we had a lot more space that we did in the city. We had a sauna in our basement—which is just so crazy and '70s, but we thought it was sorta cool, especially since I am half Finnish, and if Finnish people love anything, it's a good stretch in a sauna. Anyway, we never used it, so I decided to make it my recording studio for recording my commercial auditions. Because my space wasn't bad, I started doing actual commercial jobs in there, and then that led to auditioning for audiobooks, and here we are!

Did you find it difficult to "break into" audiobook narration? What skill/tool helped you the most when getting started?

It actually was not hard for me to get my first paying audiobook gig. What helped me most was my lack of fear and my tenacity. You have to hustle as an actor of any kind. You can't sit back and let it fall into your lap.

A lot of narrators seem to have a background in theatre. Is that something you think is essential to a successful narration career?

I think actor training is super important. The ability to just slide into the world of the book and the bodies of the characters—the ability to do that without really even trying, so that it's just a muscle memory kind of thing, is essential in audiobook narration.

Are you an audiobook listener? What about the audiobook format appeals to you?

I had never listened to an audiobook when I started narrating. A coach told me that listening to audiobooks as a narrator is non-negotiable. And he was right. I started listening and fell in love with listening to non-fiction. I love listening to books about Old Hollywood. I love that I can go out for a run and listen, and that the story can compel me to run farther than I had planned. Or make me clean my house longer than I had planned. A bio of Rita Hayworth compelled me to repaint my bathroom, and I love that bathroom now!

What are your favorite and least favorite parts of narrating an audiobook?

There are so many things that I love about it, but my least favorite part is very clear. It's lonely! I loved doing theater because I loved being social and having fun during breaks with the other actors. Narrating is a very lonely thing. But audiobook narrators have a very strong online community, so that's great. And when you get to record at the studio with a director and/or engineer, that's great, too.

What about this title compelled you to audition as narrator?

Jason, the author, found me, and I'm so glad that he did. I was intimidated a bit that so much of the book is narrated from the father's perspective, but it was a delicious challenge. The book, in my opinion, is so well written. I love when a book shakes me in some way. After a day of narrating this book, I would move on to my regular life, and then I would feel anxious. I couldn't figure out what was making me feel anxious. Then I figured it out—I was anxious because I had spent hours living in the world of Beyond the Gates.

Who are your "accent inspirations"?

A lot of times, I use famous people.

I like using famous people better than people I've met in real life, because I can look up interviews and stuff for the famous people to help really lock me in to that person. Alan Rickman finds his way into a lot of what I do. So does Tilda Swinton. And my idea of Tony Blair— not a real Tony Blair, but my idea of him. Even if the characters aren't English—these people have very specific personalities to me.

If you could narrate one book from your youth what would it be and why?

I would love to

narrate Christopher Pike YA horror books. I loved those books! I remember going to the

mall every Friday, heading straight to Walden Books (I grew up in New England, I don't

know if that chain was everywhere) and buying a new Christopher Pike book every

week. Whisper of Death is one that I've found in used books stores recently. I re-read it,

and I swear, it stands the test of time. I actually have used a piece from it as a demo sample.

What do you say to those who view listening to audiobooks as "cheating" or as inferior to "real reading"?

In this day and age, when we are realizing how the most effective way of learning or absorbing information is different for each person, who is anyone to say that one thing is better than the other? Audiobooks really stay with me. I retain a lot from audiobooks. Let's exercise different parts of our brains and include both formats in our enjoyment of literature!

What bits of advice would you give to aspiring audiobook narrators?

Listen to audiobooks. Join audiobook narrator forums online and listen to the great advice from the working narrators out there. Look out for charlatans promising "work from home, make lots of money," who have no or bad audiobooks to their names. Get coaching from the many pro narrators who make themselves available for such a thing, in the comfort of your own home via Skype.

Aug. 18th:
Aug. 19th:
Valerie Ullmer | Romance Author
Aug. 20th:
Aug. 21st:
Aug. 22nd:
Aug. 23rd:
Aug. 24th: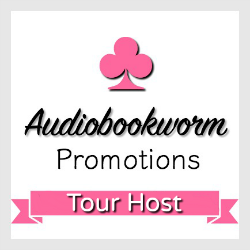 ➜Sign up as a host here