Author: Stephen Puleston
Narrator: Richard Elfyn
Length: 10 hours 10 minutes
Series: Inspector Drake Mysteries, Book 1
Publisher: Stephen Puleston
Released: Oct. 26, 2018
Genre: Modern Detective


It is the middle of the night….

The road is deserted….

A killer is waiting….

Two traffic officers are killed on an isolated mountain pass in North Wales. Inspector Drake is called to the scene and quickly discovers a message left by the killer – traffic cones in the shape of a number four. The killer starts sending the Wales Police Service lyrics from famous rock songs. Are they messages, or is there some hidden meaning in them? Does it all mean more killings are likely?

When a politician is killed, Drake has his answer. And then the killer sends more song lyrics. Now Drake has to face the possibility of more deaths, but with numbers dominating the case, Drake has to face his own rituals and obsessions. Finally, when the killer threatens Drake and his family, he faces his greatest challenge in finding the killer before he strikes again.




I write crime fiction based in Wales and about Wales. The rural landscape of north Wales provides the backdrop to the Inspector Drake novels. And Cardiff, the capital of Wales, provides the setting for the Inspector Marco novels set in a modern urban environment.
I love the novels of Raymond Chandler, Ian Rankin, Mark Billingham, Henning Mankell, Val McDermid – the list could go on! And I enjoy watching detective series on the television the recent Hinterland series based near Aberystwyth in Wales was great. One of my favourites is the French series Spiral but The Bridge and Broadchurch and the Rebus series with Ken Stott and Kenneth Branagh in Wallander are great too.
I was born in Anglesey an island off the north Wales coast and after leaving school in Holyhead I went to University in London before training as a solicitor/lawyer. I practised in a small family business doing criminal work in the magistrates and crown courts, divorce and family work.
I still live on Anglesey, North Wales near the beach and the mountains of Snowdonia.
Richard Elfyn is a hugely experienced and talented actor with film credits including APOSTLE, MARIAH MUNDI AND THE MIDAS BOX, THE KILLER ELITE and THE DARK. TV credits include THE CROWN, KEEPING FAITH, HINTERLAND, EMMERDALE and STELLA and numerous leading regular roles for S4C including political drama BYW CELWYDD. Richard is regularly heard on BBC Radio 4 dramas and is a highly skilled voice over artist. He has re-voiced many Welsh language versions of popular animations including FIREMAN SAM, BEN 10 and SPONGEBOB SQUAREPANTS.
Q&A with Author Stephen Puleston
Tell us about the process of turning your book into an audiobook.

I decided to commission the first two Inspector Drake novels into audiobooks at the end of 2018 as I wanted to offer the books to a wider audience. Audiobooks is one of the fastest growing sectors in publishing at the moment and I was interested to see if my books would prove popular. I had been approached by an American company with an offer to buy my audio rights but I decided that I wanted more control over the process. I knew that I needed a Welsh voice and Cardiff, the capital of Wales, is a thriving artistic centre where a lot of actors are based. I contacted a theatrical agency and I had a shortlist of three names that I knew were experienced voice-over artists. Luckily my first choice was available and he agreed to read the books. I knew from preliminary research that there are specialist sound studios in Cardiff and I was able to agree terms for them to record the Inspector Drake books. The whole process took several weeks.

Was a possible audiobook recording something you were conscious of while writing?

I wasn't conscious of a possible audio recording when I was writing the first books in the Inspector Drake series but I am now. The second book Worse Than Dead has a number of tables which makes it very difficult for the listener to visualise the details contained in them. I know now that I will never include tables in a written book again!

How did you select your narrator?

I selected the narrator from a shortlist of three experienced voice-over actors who work in Wales and the United Kingdom. All three were bilingual actors and it was important for me that they were able to pronounce the Welsh place names correctly and understand the background of the novels.

How closely did you work with your narrator before and during the recording process? Did you give them any pronunciation tips or special insight into the characters?

Before the beginning of each recording I provided the actor with a detailed spreadsheet of each character with my outline of the accent that they should use. I was lucky enough to have sat in on some of the preliminary recording sessions where we were able to polish the various accents so they sounded exactly as I hoped.

If this title were being made into a TV series or movie, who would you cast to play the primary roles?

This would be every author's dream of course. My reply is very easy – it would have to be Matthew Rhys. He is from Cardiff and is a Welsh speaker but he is also an extremely accomplished international actor having starred in The Americans for which he received two Golden Globe award nominations and a prime-time Emmy award. He's also played Kevin Walker in the series brothers and sisters. He is about the right age to feature as Inspector Drake and I'm sure he would love to do a detective series.

What gets you out of a writing slump? What about a reading slump?

I think it's important to relax and I refresh my writing batteries by getting away and having holidays. I also enjoy cycling and I believe it's important to keep fit.

In your opinion, what are the pros and cons of writing a stand-alone novel vs. writing a series?

A stand-alone novel does enable the author to get her greater character intensity as the reader isn't expecting to see them again. The advantage of writing a series is that it creates interesting characters that the readers want to read about regularly. I love reading Inspector Rebus novels by Ian Rankin as well as the Harry Bosch adventures by Mark Michael Connelly.

What bits of advice would you give to aspiring authors?

Keep writing. Even if you finish the first novel and it's been rejected then start the second. Get your work critiqued regularly it will help you improve.

What's next for you?

I'm writing the eighth Inspector Drake novel at the moment which should be out in January 2020. And there should be more Inspector Drake audiobooks out towards the end of 2019. After that they will be ninth some time the same year. After that I shall be turning to detective Inspector Marco which is the second series I write.

Prize: $45 Amazon Gift Card

BRASS IN POCKET
Aug. 11th:
Valerie Ullmer | Romance Author
Aug. 12th:
Aug. 13th:
Dab of Darkness Audiobook Reviews
KayBee's Bookshelf, A Literary Blog
Aug. 14th:
Aug. 15th:
Aug. 16th:
Aug. 17th:
WORSE THAN DEAD
Aug. 18th:
Valerie Ullmer | Romance Author
Aug. 19th:
Aug. 20th:
Dab of Darkness Audiobook Reviews
KayBee's Bookshelf, A Literary Blog
Aug. 21st:
Aug. 22nd:
Aug. 23rd:
Aug. 24th:
AGAINST THE TIDE
Aug. 25th:
Valerie Ullmer | Romance Author
Aug. 26th:
Aug. 27th:
Dab of Darkness Audiobook Reviews
KayBee's Bookshelf, A Literary Blog
Aug. 28th:
Aug. 29th:
Aug. 30th:
Aug. 31st:
T's Stuff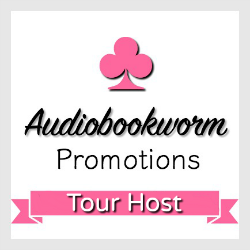 ➜Sign up as a host here