Author: Diana Rubino
Narrator: Anthony Lee
Length: 8 hours and 26 minutes
Publisher: The Wild Rose Press
Released: June 7, 2019
Genre: Paranormal Romance


Romance writer Mona Rossi's book sales are slipping. She needs new ideas and fast! Her vampire love, Fausto Silvius is a doctor aboard the Romanza, a luxury cruise ship. Holding a "Motion on the Ocean" writer's cruise sounds like a great idea. What better way to combine a career boost with romance?

But they soon discover hunters on board who give chase to Fausto and his fellow vampires. While he longs to bring Mona into his world, how can he convince her to join him with fringe lunatics on the hunt? In the prime of her life she's not sticking her neck out for a shot at eternity.


Setting goals is a key to success. Sacrifice helps, too. In 1999 I signed with my first publisher Domhan Books of the UK. I spent several summers in England writing, researching, and revising my 4-book Yorkist saga. A dedicated history buff and Anglophile, I'm a member of the Richard III Society, a fascinating group of learned historians, some of whom claim to have met Richard.
My husband Chris and I own CostPro Inc., a construction cost consulting company in New England. I'm indulging another longtime interest, archaeology, for which I'm working on a Master's Degree. We also love to travel. The Mediterranean cruise "Cradles of Civilization" aboard the Rotterdam included a visit to the Pyramids of Egypt. I was fortunate to visit Poland, my grandmother's native land, and Chopin's birthplace as well as the resting place of his heart, Warsaw.
I have a Real Estate license and since 1994 I've owned rental condos in Myrtle Beach and New England.
My stories are romances set against a backdrop of political upheaval, court intrigue, poverty, general drama of the surroundings, and sometimes a splash of the paranormal. What I'm trying to convey is that love can prevail no matter what the conflicts and obstacles, earthly or not.
I recently began writing biographical novels with no fictional characters.
I enjoy living in the most beautiful spot on Earth, my beloved Cape Cod.
Anthony Lee has been told that his voice is deep, resonant, smooth, and clear. Yet, it would be years before he would finally embrace that gift and start using it artistically.
A native of California, Anthony grew up with an equal fascination for knowledge and leisure. He would enjoy studying various subjects in school as well as doing fun things in his spare time. His motivation for success and happiness helped him achieve a solid education, a successful job, and a new life to live as his reward for years of hard work.
His decision to try voice acting came after receiving plenty of compliments about his vocal quality over a short amount of time. Whether those words came from friends or strangers, he could no longer deny the possibility that there may be something special about his voice. Hence, from October 2015 to June 2016, Anthony enrolled in night and weekend classes at Elaine Clark's Voice One academy in San Francisco, where he trained in the art of voiceover for narrations, commercials, and characters. He thoroughly enjoyed honing his voice for things like audiobooks, technical materials, corporate narrations, e-learning modules, documentaries, commercials, promos, animations, video games, and talking products. Overall, he considers his journey into voiceover to be very rewarding, not just for what he learned but also for the great instructors and classmates he met along the way.
Now with professional voice training, Anthony is stepping out into the world to lend his voice. He loves to take virtually any kind of script and work to deliver the message in a suitable way. His enthusiasm for voiceover makes him strive to be a versatile actor in the craft. Every time he is given an opportunity to provide a voice, he hopes to leave a lasting positive impact.
When he is not doing voice work, Anthony enjoys playing chess, ice hockey, pool, Sudoku, and video games, as well as watching movies, reading about random topics on the Internet, and traveling. He lives in Northern California.

Interview with Mona Rossi, heroine of A Bloody Good Cruise
By Diana Rubino
If you have 2 hours free time tonight, what would you rather do? Why?

Soak in my hot tub overlooking the Tuscany Hills with a chilled glass of Gianni Brunelli Brunello di Montalcino Riserva from right there in Tuscany. Fausto bought me a case of this for our one-year anniversary. It's a deep ruby red with intense aromas of notes of leather and cherry. Upon sipping, you get an astringent taste.

At $389 a bottle, I splurge when I sell a book—then I buy another bottle when the book sales hit the 1,000 copy mark.

But when I can't be so decadent I drink Beaujolais Nouveau, produced in the Beaujolais region of France. (sorry, Fausto, it's not Italian.) It comes out once a year, and goes on sale the third Thursday of November. If you don't get to a store in time, you can miss out. It sells out fast. Distributors deliver it to stores at 12:01 a.m. local time. I've seen people in line waiting for it. I'd do that for a Springsteen concert, but not for a bottle of wine!

Yes, I'm a Springsteen fan, and that's something else I'd do with two free hours—go to one of his shows or blast his CDs and dance like crazy. But along with the wine, I'd have Sinatra or Dean Martin playing in the background, with a vanilla candle. And if I'm feeling indulgent, I'll bring three white chocolate truffles, and eat them fast so they don't melt.

What kind of books do you love to read? Why?

The same kind of romances I write—suspense, where the heroine gets into one mess after another. I read out loud, it improves my diction for when I speak at writers' conferences. I also like to browse cookbooks. I take a snapshot of the recipe in my head, then go and improvise.

My favorite author is Linda Howard. She writes such pulse-pounding suspense. And I know this sounds hokey, but when I met Fausto, I began reading Anne Rice. Fausto and his family aren't the same kinds of vampires she writes about, but it gave me some perspective. To me, the original book Dracula, by Bram Stoker, was scary as hell. But I do consider it one of my favorite books because it was so innovative. I never believed in vampires before that book, and look where I am now!

I like to go to Goodreads to seek out new titles. I don't read the reader reviews, though. Too many of them have misled me. I just read the book summary and make up my own mind.

What is your stress buster?

A Pilates class or watching my favorite shows while working out on the elliptical trainer—I watch comedy working out, certainly not the news—I want to bust stress, not increase it. I have DVDs of some classic sitcoms: I Love Lucy, the Dick Van Dyke Show, All in the Family, Seinfeld—and some live standup: Joan Rivers, Phyllis Diller, Richard Pryor, the pioneers, the greats. No comedians working the clubs today come close to those legends. Moving for an hour to comedy—or music—is the best way to relieve stress and work it all off. When not on the elliptical, I'll get out my iPod, close the door, pull the shades and torch some calories dancing to my cardio mix—a scientifically engineered mix of songs that burn 450 calories—one of my warm up songs is Scream by Usher, one sprint song is Pump It by Black Eyed Peas, a recover song is Goin' In by J.Lo, and a cool down song is Halo by Beyoncé.

What is your favorite food? What food do you seek when you're sad, sort of a comfort food?

Cheesecake made with cottage cheese—it's healthy and low fat, and tastes every bit as good as 'real' cheesecake but much lighter. I also make honey balls, "Struffoli" which is a Christmas treat, but I make them year round. I added the recipe below. Every morning I make a healthy smoothie with almond milk, coconut milk, yogurt, either spinach or kale, cinnamon, and protein powder. If I use chocolate powder, I also add peanut butter. You can't even taste the spinach or kale, but it does turn the smoothie green. I also do some creative things to oatmeal—top it with cinnamon or nutmeg. I make it with a green tea bag instead of plain water for a healthy boost.

Describe yourself in one word.
What makes you happy/sad/disappointed/frustrated/hopeful/angry? (Pick one)

What makes me angry is intolerance. After I went through with Fausto and his family, I saw first-hand what someone different must go through to gain acceptance. I'm trying to change that by giving talks about vampires, explaining who we really are, so someday prejudice against us—and anyone else the 'majority' deems 'different' will be an ugly thing of the past.

What are your wildest dreams/fantasies/kinks/quirks?

My wildest dream is to live a week in Ancient Rome, as a Senator's mistress.

What do you most want out of life, and what's its opposite?

I most want social acceptance and its opposite is to disappear in the crowd, to be an ordinary citizen.

What would you never say, do or think?

I'd never insult someone just to show I'm better or smarter.

I'd never let anyone boss me around.

I'd never think I'm inferior to anyone because of my new status as a vampire.

What are some of your faults?

I'm too assertive at times. I still worry about what people think of me. I overcompensate to get them to accept and like me. I make a mess after cooking and don't clean it up right away. This drives Fausto nuts. He's a neat freak. Another fault that also drives him nuts is that I put off going to the doctor.

Any new projects, work in progress?

Since I joined the vampire world, I began writing

The Dark Side

, a vampire romance set during the War of 1812 Salem MA, about the (fictional) son of historical figure Deacon Brodie, a larger-than-life Scotsman who faked his own death in the 1700s.

What is your advice to aspiring writers?

Even though your first, second, third, or even fourth novel may never see print, not a word is wasted if it's considered a learning experience. I also believe that you must write from the heart, and your passion will shine through in your work. There are many roads to success, but patience is the best way.

Aug. 8th:
KayBee's Bookshelf, A Literary Blog
Aug. 9th:
Valerie Ulmer | Romance Author
Aug. 10th:
Aug. 11th:
Momma Says To Read or Not to Read
Aug. 12th:
Aug. 13th:
Aug. 14th: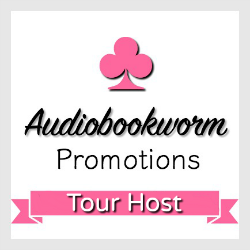 ➜Sign up as a host here