Author: Gail Z. Martin
Narrator: Therese Plummer
Length: 8 hours 26 minutes
Series: Deadly Curiosities, Book 3
Publisher: Tantor Audio
Released: August 21, 2018
Genre: Paranorma Fantasy


Cassidy Kincaide runs Trifles & Folly in modern-day Charleston, an antiques and curios shop with a dangerous secret. Cassidy can read the history of objects by touching them, and along with her business partners Teag, who has Weaver magic, and Sorren, a 600-year-old vampire, they get rid of cursed objects and keep Charleston and the world safe from supernatural threats.

When zombies rise in Charleston cemeteries, dead men fall from the sky, and the whole city succumbs to the "grouch flu", Cassidy, Teag, and Sorren suspect a vengeful dark witch who is gunning for Teag and planning to unleash an ancient horror.

Cassidy, Teag, and Sorren – and all their supernatural allies – will need magic, cunning, and the help of a Viking demigoddess to survive the battle with a malicious Weaver-witch and an ancient Norse warlock to keep Charleston – and the whole East Coast – from becoming the prey of the Master of the Hunt.




Gail Z. Martin writes urban fantasy, epic fantasy and steampunk for Solaris Books, Orbit Books, Falstaff Books, SOL Publishing and Darkwind Press. Urban fantasy series include Deadly Curiosities and the Night Vigil (Sons of Darkness). Epic fantasy series include Darkhurst, the Chronicles Of The Necromancer, the Fallen Kings Cycle, the Ascendant Kingdoms Saga, and the Assassins of Landria. Together with Larry N. Martin, she is the co-author of Iron & Blood, Storm & Fury (both Steampunk/alternate history), and the Spells Salt and Steel comedic horror series. Newest titles include Tangled Web, Vengeance, The Dark Road, and Assassin's Honor. As Morgan Brice, she writes urban fantasy MM paranormal romance, with her Witchbane and Badlands series.
Haunted Heirlooms and Cursed Curios
By Gail Z. Martin
I grew up going to antique stores and flea markets with my parents. All of the unusual items intrigued me. So many interesting things that were strange, beautiful, or just plain odd. Some I didn't recognize, and had no idea about what they did.
So I made up stories about the items, and the people who owned them, as well as how they came to be for sale. That turned what might have been a boring wait into an adventure. Many of the shops had that dark, dusty look to them where it didn't seem impossible for magic to happen, or a cursed item to be lurking in a corner.
It always fascinated me to think about the people who had owned those items. What did the object mean to them? Was it a gift? A souvenir? Something with sentimental meaning? It seemed so sad that their stories were lost. And sometimes, I'd come across an item that just felt 'wrong'. It made me draw back and not want to touch it. It gave me the creeps. Probably my imagination, but who knows?
Trifles and Folly, the antique and curio shop in Tangled Web (and my Deadly Curiosities series) is based on all of those memories, as well as imagination and a few nightmares. The idea of a store making sure that haunted and cursed items are removed from circulation so they can't hurt anyone really sparks my imagination. After all, you never know where that interesting antique might have been!

Teag Logan—Looks a bit like a young Keanu Reeves. Skater-boy dark hair. Late twenties. Tall and slender. Had been working on his Ph.D. In history before he got a summer job at Trifles and Folly, discovered his Weaver magic, and decided that saving the world was more interesting.
Cassidy Kincaide—Think of Nicole Kidman in her twenties, with strawberry-blonde hair. She inherited Trifles and Folly from her uncle, because of her 'touch magic'. She's a psychometric, able to read the history of an object by touching it.
Sorren—He's a nearly 600 year-old vampire who helped Cassidy's long-ago ancestor found Trifles and Folly 350 years ago. Sorren is Cassidy's business partner, and he's part of the Alliance, a coalition of mortals and immortals who keep the world safe from supernatural threats. He looks like he's in his late twenties, with blond hair and eyes that are the color of the sea before a storm.

Giveaway: 1-month Audible Subscription
Tangled Web Giveaway: 1-month Audible subscription

Aug. 4th:
Aug. 5th:
Aug. 6th:
Aug. 7th:
Aug. 8th:
Valerie Ullmer | Romance Author
Aug. 9th:
Aug. 10th:
Momma Says To Read or Not to Read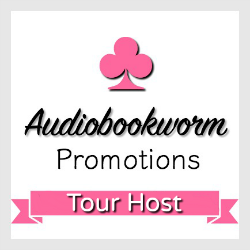 ➜Sign up as a host here